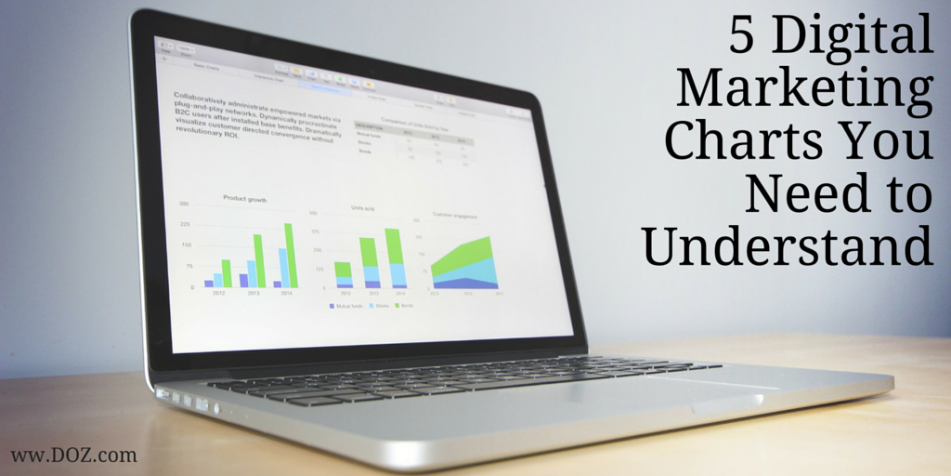 ComScore has released their Digital Future in Focus report for 2015 and, as expected, its packed with the sort of data that can – and should – affect content marketing strategies.
Whether it is knowing where audiences gather online, what social networks attract which slide of the target demographic, or what devices consumers are using to access their favorite content online, ComScore delivers.
While DOZ won't advocate relying on industry and national-level trends to determine a specific business's strategy, reports like ComScore's help to inform company strategies in light of broader trends in consumption and online access.
Hence, while reports like the Digital Future in Focus 2015 won't replace your own market research, it can be a great guide to establishing the context in which your own research and, eventually, your own strategy will emerge.
Here are five charts pulled from the most recent ComScore report that you should use in informing and developing your own digital marketing and content marketing strategies.
Accessing Content Categories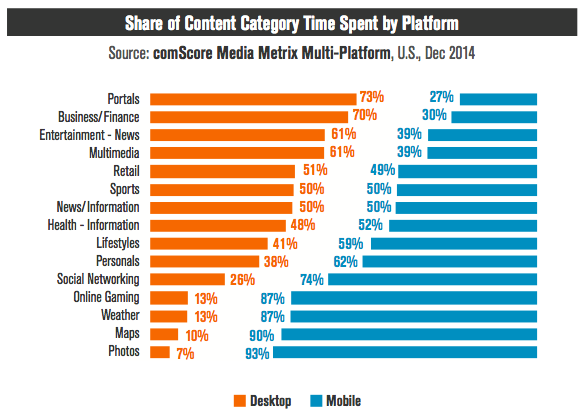 Depending on what sort of content you are offering, the consumer is likely to access that content in a different way.
For example, if you are in the business of providing finance or business news and analysis, chances are your average user is interested in a desktop-friendly experience. 70% of users who access this category of content do so from a desktop device, with the remaining 30% catching up on the run.
On the other hand, if you are hawking maps or have a photo-centric business, the vast majority of your users are going to be accessing that content – or even their own user-generated content (UGC) – via a mobile device. Sure, you can still work on your desktop web portal but understand that almost nobody is going to use.
For businesses at these extremes the content delivery focus is clear: choose to focus on desktop content if that's where your users are, and on mobile if that's where they are coming from.
However, for content categories in the center of the chart – think news, health, sport, and retail sites – it cannot be an either/or choice. Instead, with content being accessed in essentially equal quantities via desktop and mobile platforms, its going to be necessary to have sites and offers that appeal to both sub-sets of content consumers.
Platform Penetration and Engagement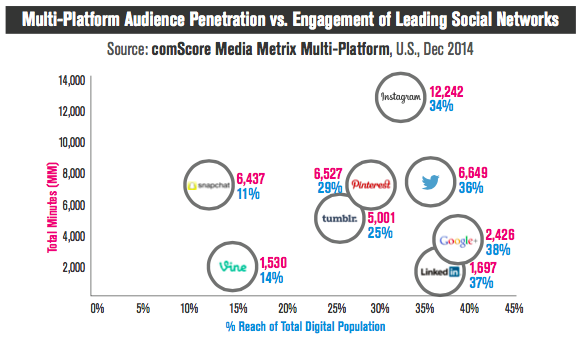 What's the better social network for engaging with your audience: Instagram, Twitter, or Google+?
To answer that question, you need some background data on your audience, of course, but you also need to understand how that audience uses the three platforms, too.
In the chart above ComScore reports some significant differences between these three platforms that can, and should, affect how you seek to engage your audience.
First take Instagram. Of the three networks it has the lowest penetration at a little more than a third (34%) of the total digital population. If it's reach you are after, Instagram is your worst choice. However, take a look at the figure in pink type: Instagram users spend about twice as long using the platform each month as Twitter uses do, and about five time longer than Google+ users.
Twitter's reach is a little better than Instagram, and the time spent on the platform by users each month is the second best across all of the platforms (only behind Instagram). Google+, on the other hand, has the best reach of any of the platforms on the chart but also a 'minutes of use' rate that is among the lowest in the industry.
So which to choose? Well no two platforms are the same so for engagement it's Instagram, for reach it's Google+, and a happy medium between the two might be Twitter.
Social Network Demographics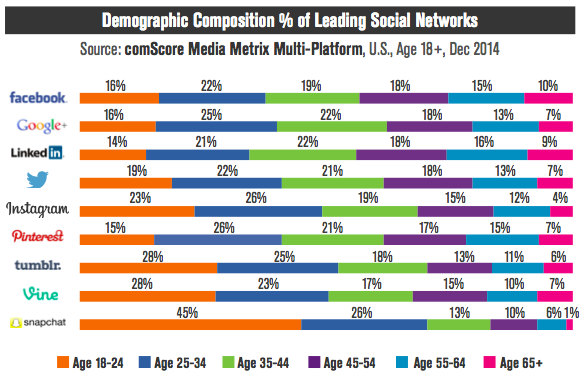 So your content team is begging you to get on social media and market your products to the crowd.
OK – you're convinced.
But which 'crowd' and on which social network should you deploy your efforts?
If you're after an adult audience that skews young, then you'll be better off aiming at Snapchat, Vine, and Tumblr. Snapchat, in particular, counts an audience that is more than 70% under the age of 34, with Vine and Tumblr maintaining audiences more than 50% under the age of 34,
Older consumers of social media content are more likely to be found on Facebook (25% over the age of 55) and Google+ (20% over the age of 55).
Of course, there is more to analyzing the demographics of an audience than simple age brackets – but ComScore has you covered there, too. In their report they also break down the social network demographics by engagement and also by their proclivity to share content with others. Facebook remains the king of the content engines, but there's enough information there to take bac to your team and get them thinking about where the company content dollar is going to be best spent.
What's Selling, What's Not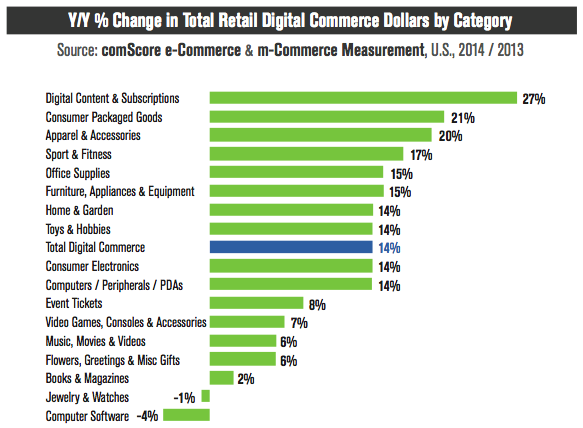 Year on year, online spending is up 14% – that's the blue bar in the center of the chart.
But look above and below the blue bar and it's clear that some markets are seeing their products fly off virtual shelves, while others are lagging, even going backwards.
Subscription content, consumer packaged goods and apparel are taking off. All three sectors are seeing annual growth in excess of 20%. As well, when it comes to sports and fitness products, office supplies and furniture it seems the American consumer is more than on-board with shopping online.
Categories like concert tickets, video games, and flowers are all growing but its slower, as is the growth in categories like books and magazines – any wonder that Amazon has diversified from its original mission?
Yet for categories like jewelry, watches, and software things are far from rosy. These categories have not experience the slow growth of, for example, movies and videos (6%), but a shrinkage in sales revenue of between one and four percent. It's evidence of a changing delivery model for software and the rise of the 'app economy'. It's also evidence of a trend towards smartphones (also explored in the ComScore report) meaning every person has an alternate watch in their hip pocket and an iPhone 6S is a more effective status symbol than a new diamond ring.
Browsing and Buying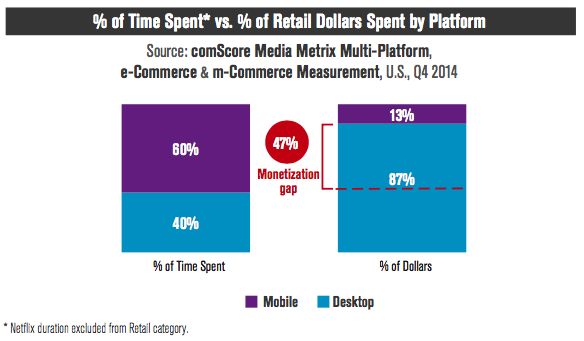 This is perhaps our favorite chart of all.
There's been plenty written about the rise of the mobile web, the need to have responsive web pages for every company site, and the increasing reliance of consumers on their smartphones for almost everything. Users interact with their smartphones and the mobile internet dozens, even hundreds of times a day, and as the chart above shows, mobile browsing now represents 60% of all of the time that users consume content online.
Yet this mobile browsing is brought into plain perspective by the second part of the chart above: while consumers might only spend 40% of their time browsing on a desktop device, they do nearly 90% of their buying on a desktop.
In other words, a mobile browsing experience is important for users as it is the increasingly normal way that they consume content, but they are usually only going to prefer to spend on a desktop computer. What ComScore refers to as 'the monetization gap' is less a gap than it is an opportunity for savvy e-retailers to exploit as the eventual transition to mobile purchases takes place.
Conclusion
ComScore have done a great deal of good research and their report offers numerous insights into the ways in which online business can build more effective and efficient content marketing and digital marketing strategies. The charts highlighted here are just five of many in the report – download the entire ComScore report for yourself and your business here.
What surprised you most about the data in the charts? Did anything cause you to do a double-take? Let us know in comments below or on Twitter!