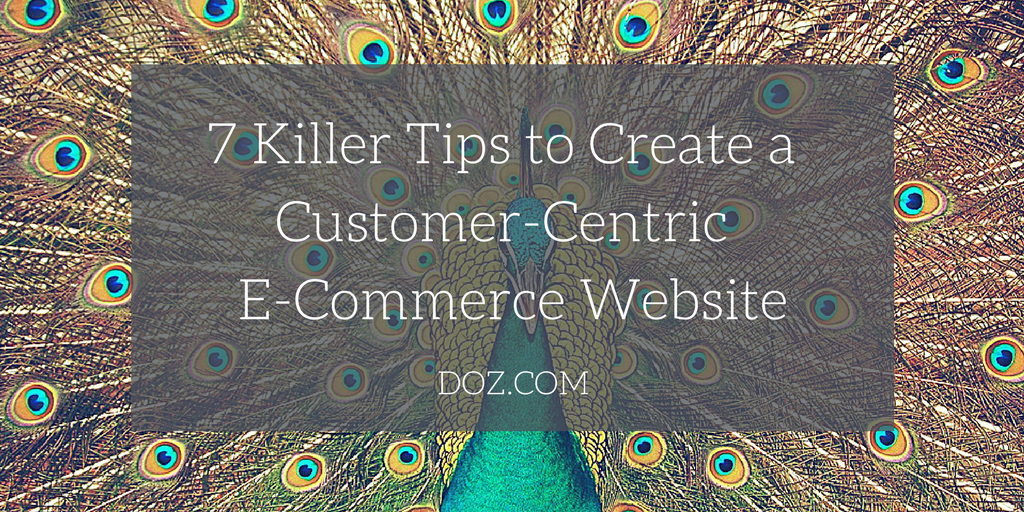 ---
This is an article by Warren Fowler. Warren's lifestyle is full of hiking adventures. When he's not busy with his guitar or enjoying the sunny day outside, he excels at blogging skills and leaps through social media. You can meet him on Twitter.
---
Customer service is often considered a crucial brand differentiator, but it doesn't change the fact that most companies still fail to improve user experience. Although they work hard to enhance customer support, they waste a lot of time focusing on less relevant aspects of online business and forget to design a user-friendly website.
It's not an easy task, but it's doable if you understand the needs of the target audience. The goal is to inspire potential customers to spend more time exploring your website and hopefully convince them to engage and answer your calls to action.
But how can you make it work? Here are 7 killer tips to create a customer-centric e-commerce website!
Conduct a Keyword Analysis
Keyword optimization is the starting point because Google is where users look for the products they need. Dana Rael, the SEO expert at Best Essays, explained it briefly: "As a specialist in your niche, you must be aware of frequently used search terms and expressions, but you still have to conduct an all-encompassing keyword analysis".
These tools will help you in the process:
Google AdWords: Keyword Planner
Google is the epicenter of the digital world, so you should start keyword analysis with its Keyword Planner. It will give you a general overview of your industry, but you can dig deeper and research competitors, specific products, different product categories, and many other features.
This tool concentrates on finding the most "profitable" search terms. It helps companies to find long tail keywords with low SEO difficulty and detect phrases that your competitors are missing.
SEMrush is a comprehensive business analytics platform that monitors more than 800 million keyword possibilities. It provides clients with actionable results that can be easily incorporated into customer support strategies.
Ahrefs helps you to learn why your competitors are ranking so high and what you need to do to outrank them. Crawling over 6 billion pages, it gives you incredible insights into organic search results of the biggest industry stakeholders.
Besides the basic SEO analysis, Keyword Explorer developed by MOZ can give you suggestions on how to make local search your comparative advantage.
The name of this tool reveals its primary purpose – and that is to find the best long tail keyword options for your business. It allows you to calculate keyword competitiveness for almost any niche, which is a very useful feature for e-commerce companies.
Create a Compelling Content
Now that you've found the right keywords for your e-commerce business, it is time to build a compelling content around them. Each copy should be keyword-rich, but you shouldn't exaggerate. Keywords are not supposed to take more than 2% of the text.
Let's say that your customers search for "best blue jeans". In this case, you need to follow this lead and include the whole phrase in your blog posts. It will increase the odds of earning a higher search engine ranking and bring you more clients in the long run.
Besides blogs, e-commerce websites need other types of relevant content. For instance, product descriptions are mandatory for every online sales company. A detailed FAQ page can also improve the SEO potential of your site, while image galleries need clear and attractive product photos.
Pay Attention to the Mission Statement
A company's mission statement can become a genuine driver of consumer loyalty, so you need to pay special attention to this aspect of the business. Here are a few examples of outstanding mission statements:
Walmart: We save people money so they can live better.
Alibaba Group: To make it easy to do business anywhere.
American Express: We work hard every day to make American Express the world's most respected service brand.
Cisco: Shape the future of the Internet by creating unprecedented value and opportunity for our customers, employees, investors, and ecosystem partners.
According to the research, the probability of selling to an existing customer is between 60% and 70%, while new prospects conduct purchases in only 5% to 20% of cases. If you come up with a convincing mission statement, chances are you'll be able to turn a lot of consumers into brand advocates.
Include CTA
Calls to action are extremely important because they invite users to take the final step and conduct the purchase. For this reason, you need a precise and straightforward CTA to convince website visitors to make their move. It's not good to burden your website with more than two CTA buttons, but each page must contain at least one.
Keep in mind that CTA design is not so simple – you need to make it obvious and distinguish it from the rest of the content. Most e-commerce websites use red to make the visual contrast between webpage content and CTA elements, but you need to follow the overall branding strategy and decide which color makes the biggest impression on customers.
Add Customer Reviews
Word of mouth marketing has the power to make or break your e-commerce dreams, so don't forget to add consumer testimonials to the website and nurture the customer reviews section. Numerous studies proved the strength of customer reviews:
This is more than enough to show you the value of positive customer reviews. Potential buyers will check out each comment about your products or services, so do your best to give people a reason to praise your work.
Minimize the Checkout Procedure
This is a rather technical suggestion, but it is crucial if you want to reduce customer churn. You should minimize the checkout procedure and enable consumers to buy the desired product in not more than a few clicks. How you do it depends on the website structure and design, but we highly recommend you cut the long story short and allow users to buy more things while spending less time on your website.
Embrace the Chatbot Technology
Chatbots are becoming increasingly popular in e-commerce because they allow companies to keep the customer service active 24/7. The new technology improves response times, makes customers satisfied, and reduces operational costs. Almost 50% of consumers already claim they would rather connect with a company via live chat than any other mean of contact.
Chatbots are always available and they get smarter over time, reducing the odds of potential misunderstandings. You might as well add a little bit of human touch to this AI tool – after all, an occasional joke will only make your customers happier and your business more profitable.
CONCLUSION
E-commerce cannot be sustainable if you don't provide users with an excellent website experience. It's not an easy thing to do, but it's possible as long as you follow the latest trends in this field. This post revealed 7 killer tips to create a customer-centric e-commerce website.
Which suggestion do you consider the most important for your business? Do you have other ideas to share with our readers? Share your experiences in comments and we'll be there to discuss this topic with you!