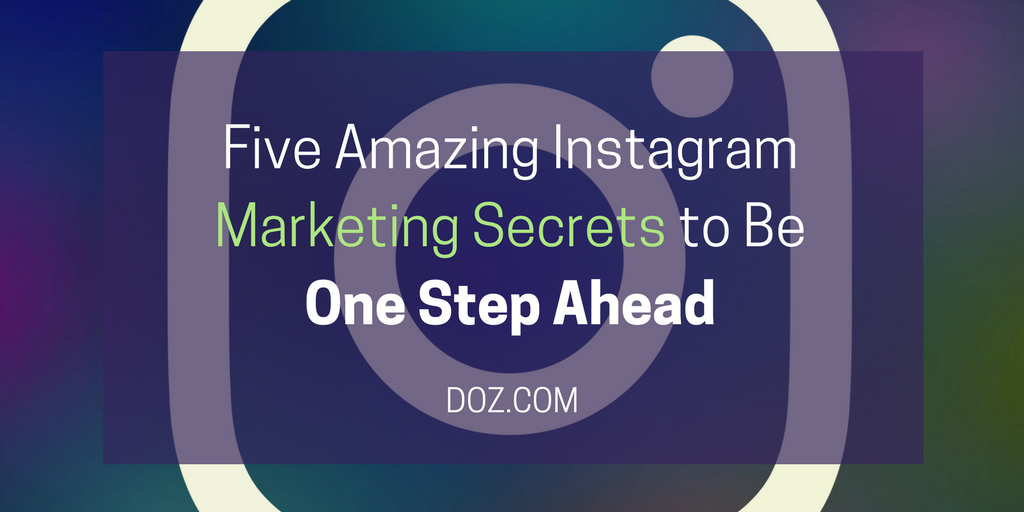 ---
This is an article by Andrew Thompson. He is a social media marketing consultant working for some of the biggest names in the lifestyle sector. He writes regularly in the online media on various aspects of Instagram marketing and how to increase the engagement level of Instagram followers. Feel free to follow him on Twitter and Facebook.
---
Five Instagram Marketing Secrets That Will Help You to Stay Ahead In the Game
Instagram has become a rage in the world of social media because it allows people to communicate in one of the most expressive ways known to mankind – pictures. This has naturally made it among the fastest growing social media platforms and is also increasingly being favored by businesses desiring to communicate and engage with their customers. However, the popularity of Instagram has also meant that there is a huge amount of content being posted every day, and it can become very difficult for businesses to cut through the clutter and achieve the desired visibility. Fortunately, there are still a few ways that can get you around the problem. Some secrets to unleashing the potential of your Instagram account:
Post Content According to a Schedule
To boost your chances of getting noticed by your followers on Instagram it is absolutely necessary for you to post content frequently and more importantly, according to a schedule that is consistent. While most online marketers know that it is important to have a ready stock of materials for posting, very few are aware that it is as important to maintain a strict schedule for posting them. The good thing is that you do not have to agonize daily about what to post if you take the help of content scheduling tools, which can help you to plan and execute posts well in advance. By doing this you can become free to engage with your customers and conduct interactive brand building exercises. If you don't want to deal with the complexities of content scheduling, you can save the posts as drafts and just publish whenever you wish to.
Make Your Hashtags Effective
Searches for content on Instagram revolve around hashtags hence it is vital that you choose hashtags with care, otherwise interested users will never be able to discover your content.While there are quite a few hashtag strategies, you will need to experiment to find out your own mix that will work best for you. Generally, the more it is relevant to your post and business, the better it is. Try to discover the ones that are popular in your own sector so that you know that your posts will be seen by the right type of audience.
Engage Followers with Behind-the-Scenes Content
It can be quite difficult to find meaty stuff all the time for promoting your products. A really effective way of filling in the gaps that never fails to delight your Instagram followers is content that shows your business from the inside. Viewers feel really special that they have been let into some activity which otherwise would not have been accessible to an ordinary user. When you tell your customers what is going on inside your business, you make them feel special and this results in better engagement and loyalty.
Use the Proper Editing Tools
While everyone likes to pretend that the photos they upload are completely natural, from the point of business, you would want them to look as good as possible and sadly most often photos that are not edited lack that extra zing that makes them appealing. Be sure to employ powerful editing tools that are freely available such as Facetune or Snapseed that do a great job of touching up the photos or add some really effective special effects.
Share Reviews and Testimonials
In an environment that is increasingly becoming skeptical, it is becoming more and more difficult for businesses to show how good their products and services really are, and it can be very easy to get lost in the general clamor by your competition. Reviews and customer testimonials carry a lot of credibility and people tend to believe them far more than advertisements or claims that businesses make. If you are receiving good reviews or your customers have issued letters of appreciation, then you should make it a point to post them on your Instagram account. Videos showing customers appreciating your products can be particularly effective in building brand credibility.
Conclusion
Business competition has spilled over from the high street to the social media and it is necessary for businesses to try and resort to every strategy in the book to grab the attention of customers, engage them, and mold them into loyal customers for life. Implementing some of the secret tips can help you to forge ahead in building your brand online.