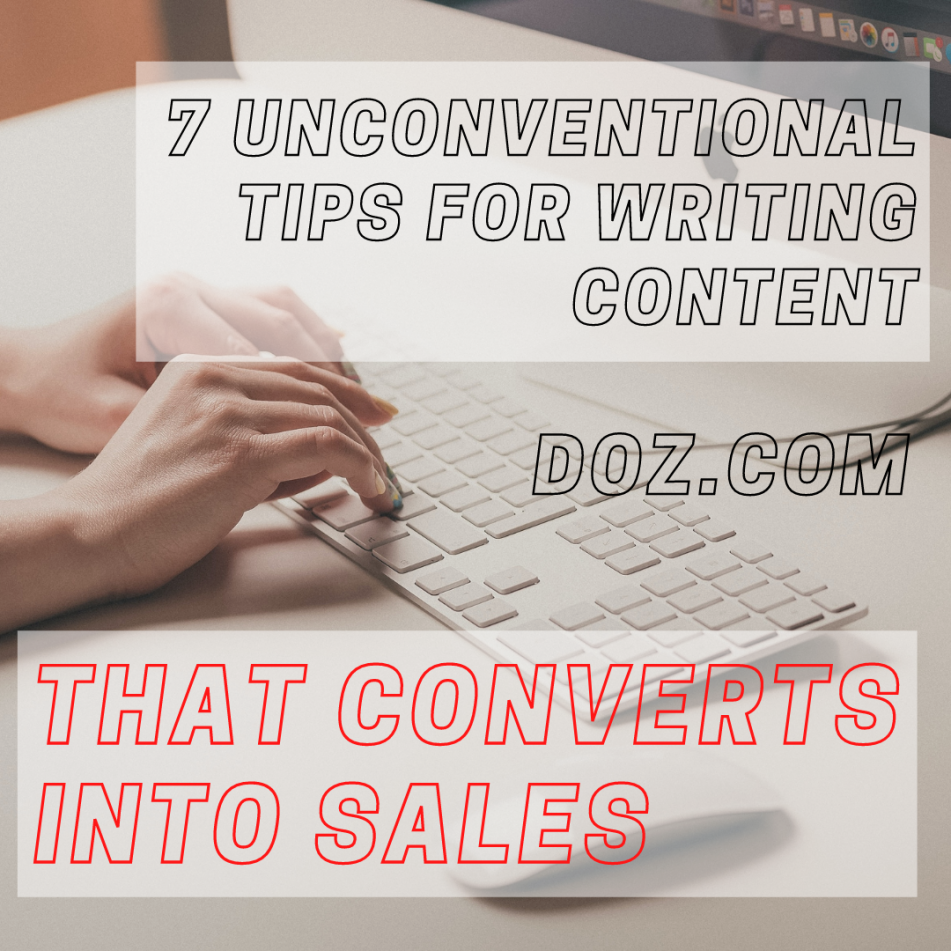 Writing content that boosts sales is a challenging task. People often think the sense of creativity is going to be enough for their success. Unfortunately, effective content marketing requires a bit more than that.

Business owners need to know the requirements and expectations their customers have. Despite that, they also need to get familiar with their personal characteristics. In that way, they will know which tone and style of writing they expect to see.

On the other hand, there is also the technical side of this part of the job. Entrepreneurs need to use effective SEO practices and reach their target audience in that way. They also need to pay attention to grammatical and spelling mistakes. These small mistakes can sometimes be harmful to a business's reputation.

All these things may seem challenging at first glance. However, tips from the list below will make things easier. Together with them, writing content that boosts sales will become less confusing. Because of that, let's find them out together.
Get Familiar with Your Target Audience
Developing a successful content marketing strategy without defining the target audience is impossible. Inexperienced entrepreneurs usually want to boost their sales by offering their products to everyone. However, investing in that type of strategy will never pay off in the end. For instance, why would everyone want to purchase sports equipment? The target audience, in that case, is athletes and sports lovers.

Entrepreneurs should start by gathering some basic information about their clients. For instance, they should get familiar with their age, gender, educational background, etc. The quality of the content will raise together with the additional information they get. They will know exactly which type of content their audience would like to see.
Add Emotions to the Content
Writing content that boosts sales without adding emotions is impossible. Direct promotions are fine, but the quality of products should not be the main subject of the content entrepreneurs share. Entrepreneurs need to show throughout the content that they understand the concerns people have. On the other hand, they also need to convince them that a solution to their problem exists.

The same rule counts for B2B type of content. For instance, B2B content strategy also needs to come with a creative storyline. Their content needs to contain emotional aspects that will become memorable among other business owners.

For instance, during the pandemic, they can write blog posts about security, social distance, support people that are afraid of the virus, etc. You can check out the part of Coca Cola's blog post on the image below.

Source: https://www.coca-colacompany.com/news/how-the-coca-cola-company-is-responding-to-the-coronavirus-outbreak
Optimize The Content You Share
Choosing the right SEO strategy is essential for writing content that boosts sales. Unfortunately, many entrepreneurs do not know how to optimize their content and improve their Google rankings.

After deciding on a topic and determining the right type of content, entrepreneurs should focus on finding appropriate keywords. Fortunately, many keyword research tools can help them explore the popular search terms.

Despite that, they should also add different inbound and outbound links. These links are not only essential for the SEO rankings. They will also make the content more valuable for the readers. The time visitors spend on the website is also one of the important SEO factors. By respecting Google's algorithm rules, their chances of reaching the first page will raise.
Determine the Right Tone for Your Content
The appropriate tone and style of the content will help businesses with writing content that boosts sales. For instance, many businesses would use wordy and professional phrases throughout their content. If their target audience is experts for a particular field, doing that is fine. However, for the rest of the world, that type of content would not be engaging.

The content businesses share needs to be easy-to-understand for every visitor of their website. They need to clearly understand the benefits and characteristics of the product businesses are offering. By checking the example below, you will manage to see how complex subjects can be easy to read.

Source: Riverford

Talking about organic food can be challenging. However, with appropriate tone and vocabulary, even confusing subject like that becomes easy to understand. The customers will understand what the businesses are offering, and they won't hesitate to spend their money.
Proofreading and Editing the Content before Releasing It Is Mandatory
Spelling and grammar mistakes can harm the reputation of every business. Writing content that boosts sales with basic mistakes is impossible. That is the reason why every entrepreneur needs to proofread his content before publishing it to his website. Of course, despite these basic mistakes, people can pay attention to some other details. It may happen, for instance, that the part of their content is a bit confusing. Fortunately, they do not have to be professional content writers to complete this part of the job successfully.

For spelling and grammar mistakes, tools like Grammarly and Hemmingway Editor can be helpful. When we talk about uniqueness, tools like Copyscape and 1Text Plagiarism Checker can be an excellent choice. Business owners should not forget that uniqueness is also one of the essential factors for good SEO.

Of course, these tools are not going to boost the quality of the content itself. If the entrepreneur needs assistance, he can look for online services that will help with dissertation. Professional writers can help them boost their writing skills and the quality of the content as well.
Don't Forget about Call-To-Action Part
If the content was valuable, the readers will start feeling proud because they learned something new. However, what should they do next? That is the reason why every good quality content needs to contain a call-to-action part.

Call-To-Action can come in different shapes and sizes. For example, the entrepreneur can ask people to download an e-book, complete the survey, or visit the shop. Of course, entrepreneurs can always invite people to share their posts on social media as well. In that way, they will reach more people, and eventually, improve their sales.

Source: Neil Patel
UX Design of the Website Matters As Well
A proper UX design of the website will also help people when writing the content that boosts sales. The first thing people will see when entering the website is design. That is the reason why design needs to be eye-pleasing and adequate.

For instance, the black background at a plant-based product shop won't boost the user experience. That is the reason why entrepreneurs have to use the right psychology theory that will contribute to the quality of UX design. However, that is another reason why they need to follow the requirements their target audience has. Their demands will help them choose the right psychology theory. Following the latest UX design trends does not always bring effective results
Conclusion
Hopefully, writing content that boosts sales no longer looks confusing. The purpose of these seven tips is to make the target audience feel comfortable when reading the company's content. More precisely, all the pieces of information companies share throughout the content will be understandable, simple, and convincing. In that case, the number of sales companies make will raise.

On the other hand, companies will manage to reach more people by going through these seven stages. For instance, SEO will help them reach the first page on Google. Despite that, people will send the content to other people or share it on social media thanks to the CTA part. Isn't that the goal all entrepreneurs have?

Angela Baker, the business development advisor and thesis writer at Get Good Grade, has years of experience in the writing industry. She helps individuals and businesses boost sales by improving the quality of their content. After many business successes, she decided to share her knowledge with the rest of the world.