Marketing your business does not require specific skills. All it really takes is to know each aspect and feature of your product/service and… to know the game. Presently, social media is the main vector through which you can market your business. Today, social media is the game. Whether your aim is to target individuals, professionals or companies, social media will be your magic wand for any marketing effort.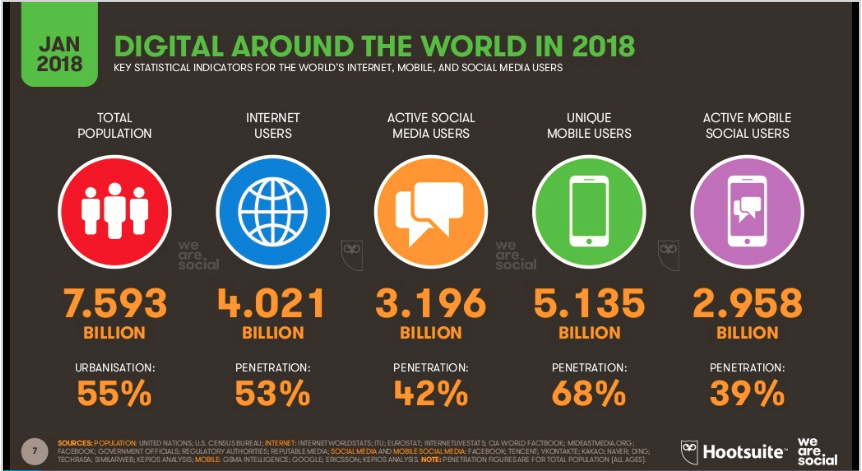 With such incredible stats, no wise entrepreneur would dare disregard social networks. Let's face it: nobody would miss out on the opportunity of reaching out to over half the world population… right? In case you are one of these wild spirits, let me convince you otherwise.
As you would guess it, I am from the millennial generation. You know, these kids who saw the first general public computers, who played on the first available game consoles, and who knew better than their parents how to manage these smart working machines? By the time I was in middle school, social media were already a thing, and their influence expanded exponentially.
As I saw the importance social networks held in our every day life (especially for us, the youth), I would not even think of marketing a business without using them. That would be insane and counterproductive in most business cases nowadays.
However, these statements are not only derived from personal experience. Thus, I shall explain the real reasons why marketing online is a must; regardless of your target audience. In this session of KAT's Weekly HACKS, we are going to have a look at the reasons why your business should use social media.
Your target audience is there
Regardless of the product or service you are marketing, the audience or part of the audience you are targeting will be on social media. According to the Pew Research Center, even among the U.S. elderly (65+), 41% say they use Facebook. For the youngest adult population (18-29), that number goes up to 81% for Facebook, and no lower than 91% for YouTube.
Yes. Your audience is there. It is on the Internet, behind their pseudo or social names, behind their Facebook likes and dislikes, their retweets, and upvotes. Your target audience is dynamic. It uses social media, and needs your brand to reach them through.
Creates an instantaneous connection
Your target audience needs your brand to reach them through social media.
Why is that a need, a requirement? For the mere reason that social media enable a direct form of communication that can expand beyond the geographic and time borders you have with your customer.
Think about it: you can reach out and sell to people 24/7 with an e-commerce website. If a customer in Australia wants to order a product from a European-based company, they do not have to travel all the way to Europe or to adapt to the continent's time zone. They can simply order it online and receive it in the next couple of days.
The same goes for your business: you can reach out to potentiel clients and market to them even during your sleep. Buffer up a few posts for the week, and your marketing will be ongoing whilst you eat, sleep or work on something else.
Read more: 7+ Great Social Media Management Tools for Businesses on a Budget
No matter how many people visit your social pages or actually decide to follow them; marketing online feels personal. Indeed, social media appears in the form of a post or a notification. Posts on feeds enable you to drag attention to your brand in a couple seconds, whilst notifications create a direct connection with your followers. Social media enhances that "I am being talked to" feeling, which is key in any type of marketing.
Whether you are making an announcement or simply sharing content, users will interest themselves in your work and, when it is well done, decide they want to follow it. We are in an era where the customer is an emperor, not only a king. He or she wants to decide the information it will receive. Your job as a company is to make sure they want to receive yours.
A group of fans following your brand and sharing the content you are publishing is called a community.
Here are a couple features that define a community: people from a certain age, with a certain lifestyle who share similar interests and values. Separately, you call these people buyer personas; once they start following your brand, they become a community.
The beauty of having a community lies in my next point.
Once you have been able to establish this connection with users, your social media marketing will not only be a matter of attracting attention. It will be about building loyalty.
What does it mean? Simply to obtain (positive) reactions from your community. Such reactions include liking a publication, commenting on it, and/or sharing it to their own social network.
This is where social media truly becomes interesting and empowering: once you have managed to win a couple of loyal followers, they will be acting as mini marketing agents by sharing your content and brand message to their own friends and followers. Thus, enabling your business to acquire more visibility and reach out to more people.
Read more: The Best Tools to Optimize Your Content Strategy
Defines your brand's identity
Contrary to traditional marketing techniques, today businesses are not trying to sell a product or a service. They are trying to sell the brand as a whole; they are marketing the experience of using the brand. And how do you enable such technique? Let's assimilate your customer to a crush.
How do you get a crush interested in you? Spoilers: the answer is NOT by stalking them, and knowing ALL about them. You do know all about them but you do not want them to know that. You want to know their interests in order to make yours appeal to theirs. You want to become likeable to your crush and as a brand you want your customers to absolutely love you.
Thus, you create that social media page and you get started. You build it from A to Z to fit the brand image you want to reflect, and slowly start building your identity through content.
Conclusion
This article is merely an introduction to the importance of social networking in the business environment. In fact, inputting a social media strategy is not as easy or as bogus as it may appear in the beginning. In fact, I would strongly advise you to use professional experience… or at the very least to follow my next week's article to know more about the different social networks, and the right ones to use for your business.
Stay tuned! Kat.🌟
Are you looking for the right social media marketing strategy? Our experts can audit your business and help you roll out the perfect strategy. 👉 Get started now 
---
For more news, subscribe to our weekly newsletter.
Are you a marketing expert? Join our team and start working for our clients worldwide.