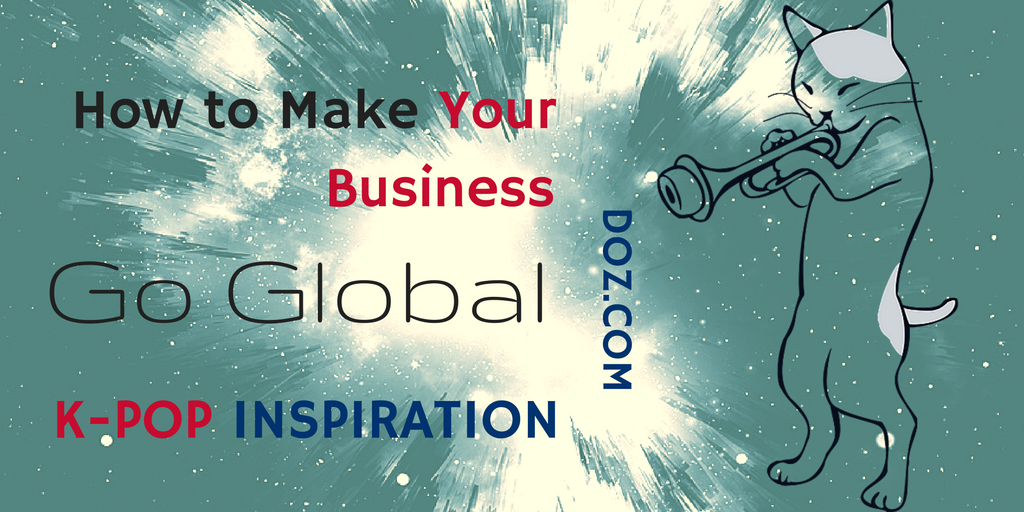 Do you know anything about G-Dragon? Ji-Young Kwon? No?
And BIGBANG? Not the theory. Not the show. The music group.
Okay, and K-Pop? Sounds familiar? No?
Anyways, unless you have teenagers, or girl friends that love Asian culture, it is unlikely that you know what I am talking about. However, you would be surprised to learn that thanks to this Korean music genre, Korea's music industry counted $3.4 billion by half of 2012, and that it has been recognized by the Times as the 'most profitable South Korean exportation'.
Still skeptical? Ask the web if you want: this musical trend got viral on it since the 2000's. And if you are curious enough to read further, it'll give you tips on how to make your business go global.
You figured out something that works
Before the 1990's, South Korea used to import all of its music, and dance on popular songs for the rest. Since 1992, with the upcoming success of Seo Taiji & Boys, K-Pop emerged. Although the name 'K-Pop' suggests it to be all about pop music, it actually is pretty diverse: indeed, it covers dance-pop, pop, but also ballad, electronic music, rock, hip-hop, and R&B.
The complete revolution this group created allowed others, such as Fin.K.L., G.O.D., H.O.T., Sechs Kies, SES, and Shinhwa to breakthrough, and entertainment companies such as YG Entertainment, DSP Entertainment, and JYP Entertainment to flourish in the Entertainment industry.
Have you acquired some kind of notoriety in your business field? on the market? Great. It's time to move on to the next step now.
RELATED: Pave Your Way to Rockstar Success
Target a country, and adapt yourself to it
After K-Pop's impressive success in Korea, entertainment companies decided to target the second biggest music market in the world: Japan's. Although Korean and Japanese people may appear pretty similar to most foreign cultures, they are pretty different – starting with the language, which is not the same at all.
Therefore, in order to make the Korean music appeal to the Japanese culture, companies made Korean singers learn the Japanese language, enabling the to use it in their songs, and resulting in an almost invisible language barrier.
Before starting to go global, you should first target a promising country, meaning one which is different, yet not too much from your own. Keep some kind of cultural resemblance, as it is more of a 'test' than a secure investment.
Launch your own product in a country of which you've analyzed the market opportunities and your ability to appeal to it. Depending on your industry, and the size of the company, you may want to go big and invest a lot or remain a little more discreet and go step by step. Collect advise from experts around you in order to build the correct decisions – in case of a loss, you do not want to be too much endangered.
RELATED: 7 Social Advertising Practices Startups Need to Use
Try Social Networks
K-Pop music was a Korean phenomenon, which was exported to Japan. However, thanks to Youtube channels, Facebook shares, and social networks in general, it quickly became viral worldwide. Wonder Girls in 2009, and followed up by so many more like BIGBANG, 2NE1, or the 2.6 billion times viewed GANGNAM STYLE from PSY in 2012 made it expand in European, and American countries (as well as Asia that was already into it).
Once you've figured out your product worked in your country and in a foreign country of your choice, it's time to think about launching it globally. Nowadays, the best way to do so is to pass it on through social networks, and see how it goes. Send it through Twitter, Facebook, and LinkedIn and look up your analytics: did you get valuable social traffic? In which country were your posts most shared? Was your target the one you expected? Take decisions according to the collected data, and make the most of it.
RELATED: Six Steps to Social Media Success for Small Business
Make contacts
After some growing success from Korean bands, entertainment companies throughout the world seized the opportunity and started making partnerships with them. Quickly the U.S. and European market followed the K-Pop movement, and as a result, K-Pop groups expanded worldwide: Girls' Generation were invited to David Letterman's very prestigious show, and in 2011, BIGBANG's album Tonight reached the U.S.' iTunes chart's top 10. The social media success K-Pop demonstrated lead to further local partnerships. Nowadays, some K-Pop groups come to the U.S. or Europe in order to give concerts. Tickets are bought within the following hours, and the concert halls are completely filled with fans.
Noticing your brand has a fan-base in various countries and continents actually helps you in asking for a partnership. The agreement becomes legitimate, and gives you a certain credibility, and reliability as an entrepreneur. Contact local business owners from your field, and ask them about the current economic situation in their country, and how to proceed according to their ways, and principles. Do not try to figure out everything by yourself. Focus on what you need to know about your targeted market, and the country's administrative ways. Ask simple, direct questions, and start building strong business relationships with the foreign entrepreneurs.
RELATED: Five Things I've Learned After Launching My SaaS Startup
Implement your business
Last but not least: after K-Pop's worldwide online success, entertainment companies started to implement the phenomenon directly in big cities. Indeed, K-Pop fans can now attend concerts, buy goodies, and even go to K-Pop events. The implementation grows at a quite slow rate compared to the huge increase on socials; however, the market remains safe as fans are always craving for more.
Once you've earned the success, and got the needed information, implementation is just a matter of realization. Plan it out properly, give out orders, prepare your launch through advertising, and make it real. You know your customers; you know your product, business, and work. You know it all. All the cards are in your hand: play them.
RELATED: 6 Steps to Successfully Taking Your Business Global
Conclusion
Starting with an online platform in order to, later, implement shops and "real-life" events is a winning equation in our current economy. Shifting from a service to an experience one, people are always seeking new, and sharing it. Do not neglect the power of social media, as it can truly expand your business and give it a shift up.
Okay, and now the final answer: Ji-Young Kwon, also known as G-DRAGON is BIGBANG's leader. And today?… It is his birthday. Saeng-il chugha.