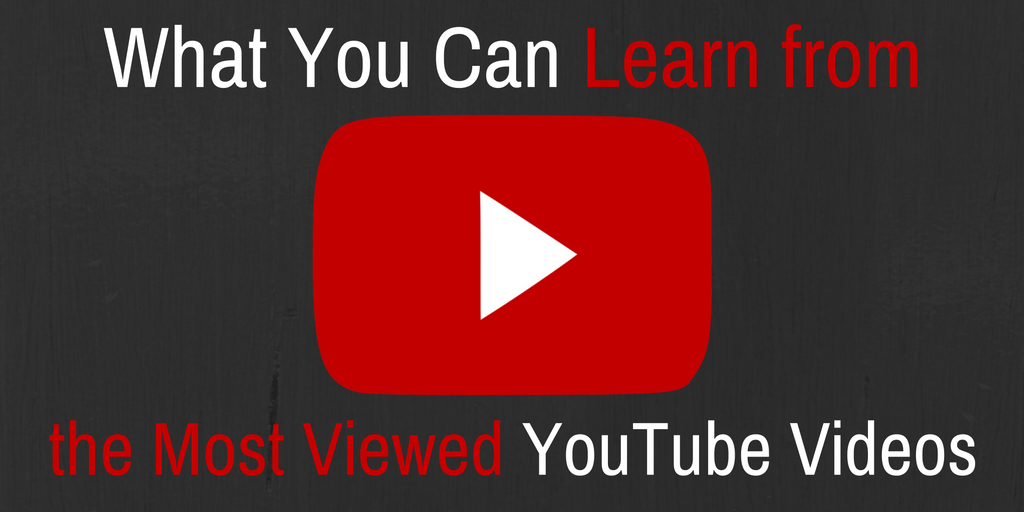 YouTube is an online video support. It has over billion users which, according to the website, matches 'almost one-third of all people on the Internet'. Indeed, everyday YouTube generates billions of views.
'YouTube overall, and even YouTube on mobile alone, reaches more 18-34 and 18-49 year-olds than any cable network in the U.S.' meaning that the YouTube public is relatively young. The platform is a contemporary device as its launch was only 11 years ago.
With the device's increasing popularity, a YouTube community has emerged. Just like blog articles, YouTube videos are passed through social networks, having people share  their favorite videos and follow their favorite video makers (YouTubers). Most YouTube videos include music, tutorials, animals (especially cats), and YouTubers.
The most viewed YouTube videos outreached the billion views. Most – if not all – of them are actually official music videos. The three bests are presented in this article. Here is what your business can learn from them.
1 – GANGNAM STYLE – PSY
With over 2.6 billion views since the 15th of July 2012, GANGNAM STYLE from PSY is by far the most viewed video on YouTube.
The story's irony is that GANGNAM STYLE was never aimed to reached such success. PSY tells he 'didn't expect it at all'. His goal was only to 'create a fun song'. He didn't want to pass on any message, just to entertain.
As a K-Pop star, PSY already knew who his public was when realizing the music video. Therefore, oversea publics were not taken in account… At all. Yet, something managed to reach out people from foreign, and fundamentally different cultures.
The entertainment, and fun aspect of the music and clip helped PSY's GANGNAM STYLE reach the top. Furthermore, it clearly helped K-Pop build its notoriety in the Occidental World.
Now, how come a +2.6 billion view on YouTube?
A creative, and offbeat musical video.
PSY mixed up totally classy and sporty outfits with ridiculous dances and neon colors. Everything in the clip is energetic. The music has the type of rhythm that makes you laugh, and want to dance. Overall, watching it makes you happy.
In three words: make people happy. Your marketing campaign should make people smile. Indeed, you do not forget the ones who make you smile. 🙂
A unusual, and funny artist.
PSY is not the typical Hollywood-made star. He is not slender. He does not have astonishing abs, or a crazy smile. He is a regular 38-year-old man. Unlike his colleagues, he makes fun of himself on purpose in his video clips.
This unusual, yet attention-grabbing way of presenting himself to the public makes him original, and funny. Whilst you cannot give your company a negative image, you can still adapt your marketing campaign, and make it look more casual. Depending on your product, your customers may find it easier to relate to, and more appealing to them.
A humorous, and modern topic.
Entertainment is the key to any successful marketing campaign. Actually humor may even be your best asset. Whatever you message is, in order to sell your product, you must use humor. Try to play on words, or create amusing and offbeat scenarios, and situations.
RELATED: 5 Reasons to Love Robin Williams and What It Teaches Your Business
2 – See You Again – Wiz Khalifa ft. Charlie Puth
See You Again stands as the second most viewed YouTube video ever. With its 1.9 billion views (700 million views far from GANGNAM STYLE), Wiz Khalifa and Charlie Puth pay tribute to the recent death of the Fast and Furious hero Paul Walker. (The video was released about 4 months after Paul Walker's death.)
Although it may sound creepy, Paul Walker's death during the realization of the movie Fast and Furious 7 was a strong asset for the movie's marketing campaign. Indeed, Paul Walker died on the 30th of November 2013, whilst the movie was released on the 1st of April 2014. The song came out 5 days later on YouTube (6th of April 2014).
Everybody was talking about the seventh movie's release. Then about the actor's death. And then about the movie itself, and the tribute to Paul Walker. Therefore, all of this 'noise' meant 4 to 5 – even 6 – months of 'free' advertising. Which cannot be neglected.
Indeed, I am not telling you to 'buzz' on social networks with a key employee's death. (And unless the employee in question is famously known worldwide, it might be complicated to get as much attention as you would expect.) However, it is possible to take advantage of some current situation.
It is even a must. Following trends means keeping up with marketing. Marketing targets customers, and customers live. And you know they will celebrate Christmas in December. So celebrate Christmas for your company too. Targeting your potential clients is also a matter of timing.
https://www.youtube.com/watch?v=pSY4OQUi7YA
RELATED: Top 5 TED Talks for Businesses and Startups
3 – Uptown Funk – Mark Ronson ft. Bruno Mars
With 1.8 billion views, Uptown Funk is only 100 million view far from See You Again. To this day, it is the third most viewed YouTube ever.
Why such success for a regular pop song?
Maybe because it is regular. Maybe because it is a pop song. Or maybe because of both.
Actually, the beat and Bruno Mars' attitude kind of reminds us of deceased Michael Jackson. Bruno Mars has, in his clip, the typical pop star attitude, with the body movements, and classical mannerisms (look up Michael Jackson or Rick Astely's clips, and you'll understand what I mean).
Just like for GANGNAM STYLE, the reason for such success is the following: people love to party. They love to have fun, and laugh. A rousing beat, followed with a colorful environment gives a strong, and energetic dynamic. People feel drawn to these type of videos, music, and even individuals!
Giving the same kind of entertaining, and energetic movement will make your customers feel secured. Simply meaning: with you, things will be done. By triggering such image in your client's mind, you are building positivity, trust, and movement. Reminder that it is a must in a endlessly changing society, economy, and world.
Now, I am not telling you to play pop music in your office all day long. Nor to start dancing in front of your employees or colleagues. No. (Although it could be pretty funny.)
Try only to appear energetic. When signing with a client, or even when you are only presenting your product or service, show something clear, and neat. Make the steps straightforward, and don't mess up your explanations. Smile, and feel at ease while remaining professional. You want your customer's questions to be detailed, and practical – not about making you repeat what you just said 5 minutes ago. You want to move on.
RELATED: Famous Brands: Why People Love Them
Conclusion
Although YouTube is not a social network, it is a very strong communication channel that must not be neglected by companies. Just like anything else, success can be taught be the ones who reached it. These YouTube videos did sit on the top, and were, I hope, able to give you another business perspective that will enrich your path towards your own success.