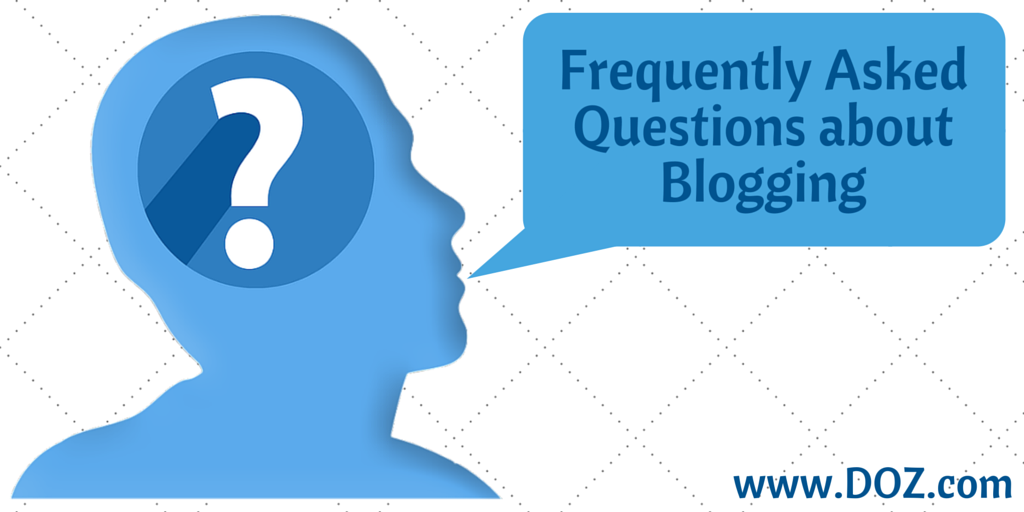 Quora is a great source for information about almost anything. If you're looking for practical advice, scanning for popular opinion, or trying to figure out a historical puzzle then Quora and its active users can be a great place to turn.
That's particularly true when it come to blogging.
Despite being a well-established activity and with major bloggers celebrating their 10 and 15 year blog anniversaries, there are still many people who are starting a blog, businesses that are adding a blog to their marketing mix, or established bloggers looking to take their hobby to the next level.
On Quora there are more than 16,000 questions about blogging followed by more than 270,000 users. That's one enormous audience to share advice, knowledge, and tips for better blogging, and a significant resource for anyone interested in advancing their blogging skills.
Scan the questions and you'll see that there are many that get asked again and again. That's not so much a bug on the Quora platform as it is a feature: experienced Quorans (as they are known on the site) can not only link to previous answers but also point newer users asking the questions to the topic's Frequently Asked Questions (FAQ).
So what questions are most common among those asked about blogging on Quora? What are the questions that users post, post again, and then post again seeking the same information? Or, put in another way, what are the things that most people feel they need to know before getting into blogging and in advancing their blogging hobby or career?
FAQ in Blogging on Quora
Quorans have curated a list of the ten most frequently asked questions about blogging on the platform. Under each question the Quorans offer their own answers, and sometimes these answers can be as long, detailed, and in-depth as any article here on The DOZ Blog.
In this post we'll reproduce those nine questions along with the responses that we think best speak the question and the concerns of the person posting the question. What's more, where we've dealt with the same issues here on the blog, we'll also link to those resources, too.
Think of this article as a one-stop-hyperlinked-shop for the most common questions posed about blogging.
[freebiesub title="our eBook on blogging" download="http://bit.ly/ebook-blogging"]
What are some tips for starting a blog?
We've covered this one at DOZ before and we've literally written the book – well, the ebook, at least – on how to get started with blogging. That's not to say we've got all the answers, though, and there is plenty of value in the responses offered up on Quora. Among our favorites is this one from Matt Schiavenza which has also proved popular with Quorans.
What are good ways to find a good domain name?
Choosing the right name for your blog and securing the right domain name for your blog are two important steps for any aspiring blogger to make early on in their blogging career. For more advanced bloggers or for businesses, there are also the options of using sub-domains for blogging or blogging on different platforms, each having their own particular pros and cons. Jatin Kumar Hota has a great response to this question on Quora.
How do I boost traffic and gain more presence for a new blog?
Unless you are writing your blog for just yourself – and those people do exist – then you'll likely be looking to build an audience. For an individual the choice might be optional but for a business building an audience and growing traffic is a must. We've explained what to know and how to grow and all the trends in blogging you'll need to be on top to ensure you're traffic keeps coming in strong. On Quora, Muhammad Mairaj has a great and thoughtful answer.
Should I design my own website on WordPress or outsource it to a web designer?
WordPress is our recommended platform for blogging and topped out our survey of the best blogging platforms in 2015. While getting started with WordPress is relatively easy for most, some people wonder if working through the thousands of themes, plugins, tweaking post types, and organizing the back-end is really worth it. In some case, they'll seek out the services of a web designer to do the hard work for them – but should they? Here's what Colin Slater said on Quora.
What is the best blogging platform?
We've looked at them all – hosted and self hosted – and made our call on the best blogging platform: a self-hosted WordPress blog. But what do Quora users have to say? Blogger Brian Penny has a great answer.
What are the best ways to promote a blog post?
Don't think that once you press publish that your job as a blogger is over. After publication comes promotion, and we've taken you through some of the best ways to promote posts here on DOZ before. Indeed, we've also offered up a process that has helped win 100,000 page views for blog posts – wouldn't you love this sort of traffic for your blog? Sonu Agarwal has a great, tip-packed response.
What are best practices with regards to SEO and reaching long-tail keywords in your content on your blog?
When it comes to SEO, well, that's our bread and butter here at DOZ. We've published dozens of posts to help sites and bloggers reach their search marketing goals and we've been helping clients reach their marketing goals for years. But as anyone who has worked in search optimization before can attest to, there are almost as many SEO strategies as there are SEO strategists so it's wise to read widely and regularly about potentially useful solutions. In that vein, here's the answer of Swapan Sutradhar who picks up on the long-tail elements in his response.
Who are some of your favorite bloggers that are great mentors of how blogging can hold an audience?
We're fans of blogging – how could we not be fans? We've already published our list of bloggers you should follow to improve your blogging and we've even highlighted bloggers in different countries around the world who are worth checking in with daily – here's our list for Australia, for example. This is a more subjective question, of course, and mentors can come in all shapes and sizes. Nonetheless, Antonio Kowatsch has a particularly good response.
Can Instagram be used as a blogging platform and if so, how?
We've written a lot about Instagram in the past – did you catch our ebook on Mastering the Filters? – but we've never looked at this social network as a blogging platform. While LinkedIn or even Facebook might be able to serve a blogging purpose, Instagram is something a little different. For that reason, Chris Prakoso's answer on Quora gave us some food for thought.
[freebiesub title="our eBook on blogging" download="http://bit.ly/ebook-blogging"]